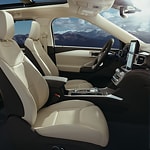 If you're considering your options for an SUV to drive around Levittown, NY, don't look any further than the freshly redesigned and well-equipped 2020 Ford Explorer. Filled with features, the various models are designed to suit a variety of driving styles. Levittown Ford LLC can help you select the model that is right for you.
For improved safety, the Explorer comes with a Reverse Brake Assist system. Cameras will help detect anything behind your car whenever you're in reverse and alert you to any potential collisions. The system can also apply the brakes for you to keep you from colliding with a stationary or moving object.
Whether you're driving on an open road with crosswinds or on a highway with a lot of passing semi-trucks, you'll appreciate the Sidewind Stabilization system. This technology can keep your car pointing straight as the conditions change so that you don't have to fight the wind.