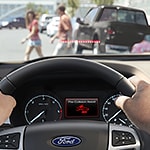 For anyone seeking a new midsize pickup truck, the popular Ford Ranger should absolutely be a top consideration. This regal workhorse is Levittown, NY's finest option when it comes to stylish ruggedness. With a litany of customizable aesthetics, this ride is bound to suit your personality perfectly.
There are several appearance packages available including Black, Chrome, Sport, and STX. Each suite is extravagantly outfitted with striking adornments including exclusive rims, accents, and grilles. XLT models are granted a series of standard modifications, but true decadence is unlocked within the rarefied LARIAT trim.
As Levittown Ford LLC can fully detail during a test-drive, you will have a choice between the SuperCab and the SuperCrew. The former features a larger bed while the latter emphasizes increased interior spaciousness. Ultimately, this dynamic vehicle can be extensively optimized to fulfill exact preferences. Thus, all diehard truckers should experience the joyous rush of Ford's fearlessly designed Ranger.